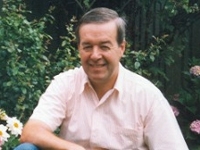 Site Owner

Photographs of tomatoes taken by John Peirson, a resident of Broughton Astley. The variety is Queen Of Hearts. Plants were grown from seeds available in the Heritage Seed Library at Ryton Gardens (Coventry).

I am a Sole Trader, with business name Right Time. Having a practical background in Science and Electronics and training in Mathematics and Computing, most of my career has been in the field of high tech software development.


Compost

I have a small compost system in a small garden. There is a wooden box, about 95 cms square by 80 cms high. The space is partitioned in four, allowing me to work with compost and raw materials of different ages and at different stages of decompositon. Normally one or two sections are making compost and one or two are keeping materials, which I chop up before mixing in a live composting space. Garden waste and uncooked food waste are composted, plus some cardboard and paper.

Queen of Hearts Tomatoes

These tomatoes had a good taste and texture. The appearance was quite mature, often with pumpkinlike skins. Sizes varied but they were larger, on the whole, than from the unnamed varieties we had from a garden centre. However, 2009 was a difficult year because of so much rain and a corresponding lack of sunshine. We had the other tomatoes in growbags and pots and some in the earth. It was a headache to keep moving pots or bags when the weather changed. So a greenhouse seems to be needed for comfortable growing of tomatoes in England.

There was originally a fifth pot of Queen of Hearts tomatoes, named T3. It went to a fan of hearts in South Wales. We will find out how it fared...

Images

To enlarge any image, click on its date or click Next to see the large images in a sequence.